Hi babes !!I share this outfit that I love because it mixed chic and comfortable style for a non-stop day !! I like it because it fits amazing wearing heels but it also works great with these black boots from ItShoes spring collection !! Almost all these clothes you have seen me on other outfits because they are basic clothes that always work nice!
Hola a todas!! Hoy comparto este look que me encanta porque he mezclado un estilo chic-cómodo perfecto para un día sin parar!! Me gusta porque queda ideal con tacones pero también funciona genial con estas botas negras planas de la colección primavera de ItShoes !! Casi todas las prendas me las habéis visto en otros looks porque son prendas básicas que siempre funcionan para conseguir diferentes looks.
Aprovecho para compartir un secreto de belleza , con un tratamiento que me he realizado que es la bomba!! En mi última visita a Madrid acudí a Tacha para retocarme el color de pelo , aclarando el tono de medios a puntas y , además , tenía cita con el departamento médico para realizarme  IPL Fotorejuvenecimiento con ELLIPSE . Hace años que estaba muy preocupada por las manchas que tenía en la piel , no solo del sol , también tenía lesiones vasculares que me provocaban unas rojeces y el poro muy abierto en mi piel. Durante años he pensado que no tenía solución hasta que hablando con Macarena me habló de este tratamiento y no puedo estar más FELIZ CON LOS RESULTADOS!!
Os cuento mi experiencia probando IPL Fotorejuvenecimiento con ELLIPSE !! La sesión consiste en  emplear la Luz Intensa Pulsada (IPL) en las zonas deseadas como cara, cuello, escote y manos. En mi caso solo me lo he realizado en la cara y la sesión dura como unos 20 minutos. Antes de comenzar se anestesia con una cremita , ya que el tratamiento no es doloroso pero si algo molesto , por lo que se lleva mucho mejor con anestesia. Durante la sesión la sensación es de calor en la piel y la molestia es similar a la depilación láser (aunque cada persona sentimos y llevamos el dolor de una forma diferente) . Después de la sesión se siente un poquito de escozor en la piel , que se va rápido , y la cara está durante las primeras horas muy roja (como si hubiésemos tomado el sol) . Durante 8 o 10 días salen unas pecas en la piel  que se van transformando en costras que se caen pasado este tiempo.
El resultado es una piel sin manchas , con el tono uniforme , el poro cerrado y la piel completamente renovada. Os aseguro que jamás he probado un tratamiento con el que esté tan fascinada con los resultados , ahora pienso como he podido estar tantos años con este problema sin saber que tenía una solución tan rápida y efectiva!! Si tenéis este mismo problema o cualquier otro que os pueda preocupar de vuestra piel os aconsejo pedir una consulta con el departamento médico para que os puedan aconsejar y contar los mejores tratamientos para vuestra piel. Solo tenemos una piel y la tenemos que cuidar lo máximo posible porque es la que tendremos durante toda nuestra vida 🙂
Cualquier duda que tengáis no dudéis en llamar a Tacha Beauty y preguntar porque no os podéis imaginar lo feliz que estoy con este tratamiento!!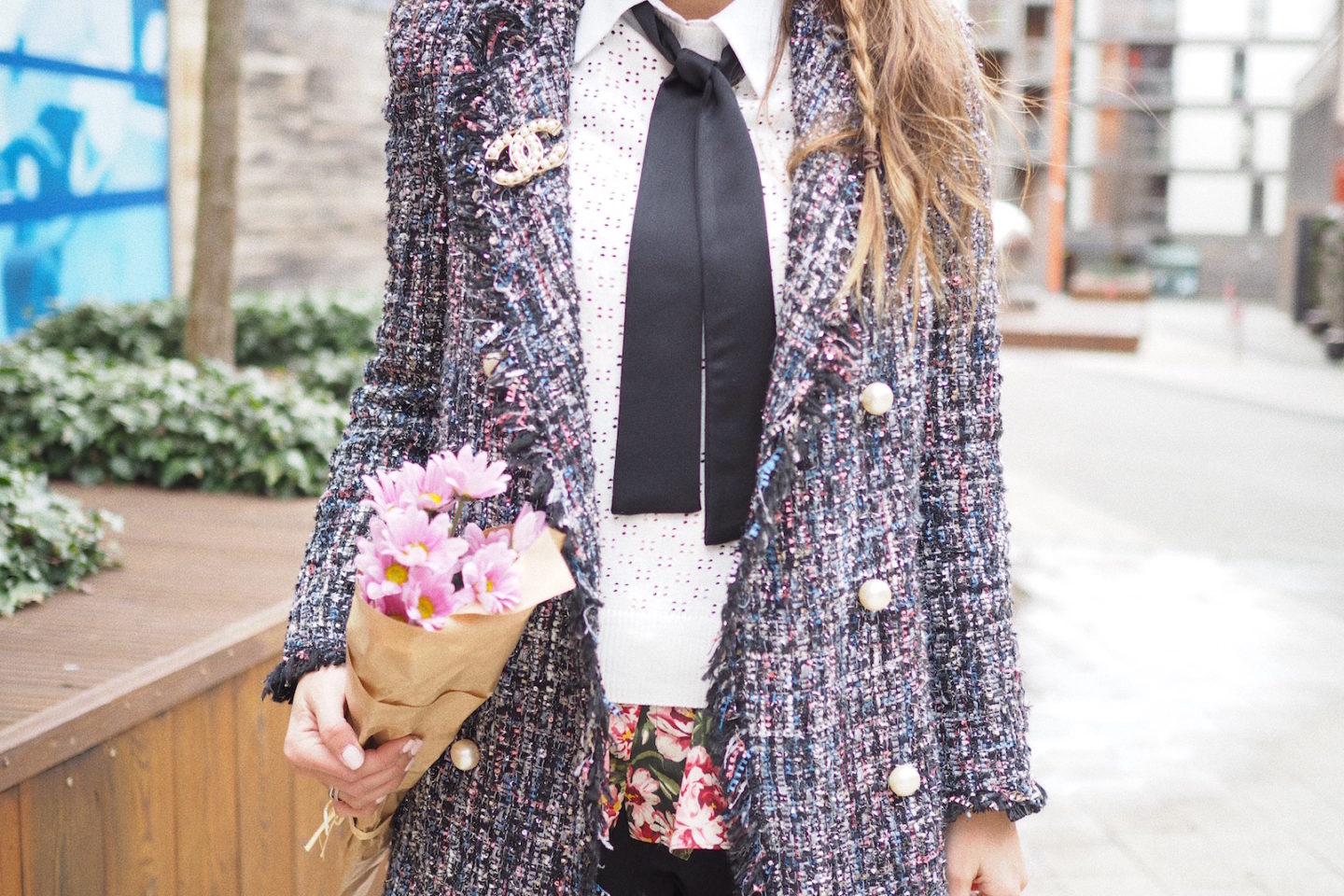 Zara tweed jacket
Chanel brooch
Mango sweater
Zara blouse and leggings
Givenchy handbag