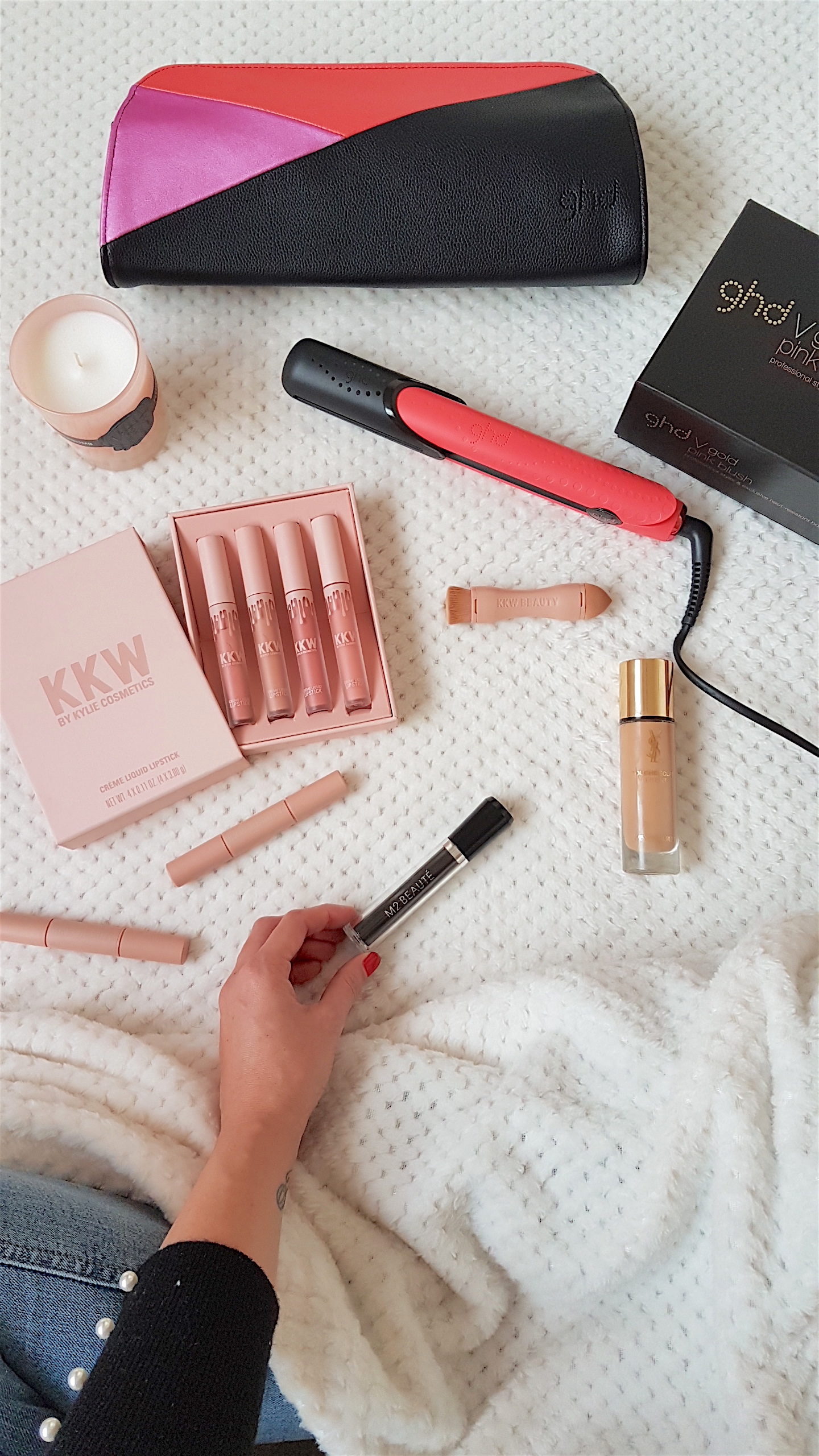 Girls don´t miss my favorite beauty products  !!
Hoy toca post de belleza para compartir con todas vosotras mis últimos descubrimientos beauty!! 
 Kylie Jenner cosmetics are a must have and I couldn´t resist to have the Kim Kardashian´s cosmetics line , in collaboration with Kylie Cosmetics . I got some cream lipsticks with a matte result and the cosmetics to get the famous Kim Kardashian´s contouring makeup . The contouring products are in different shades to get the perfect makeup and I have to practice because I don´t know very well how to use it ! hehehe
Ya sabéis que Kylie Jenner lleva tiempo con su línea de cosméticos KKW que es todo un éxito! A esta línea se ha unido Kim Kardashian con una línea de cosméticos con labiales en crema con un resultado mate (quedan impresionantes) y una línea para conseguir el maquillaje de contouring que tanto controla Kim Kardashian. Los productos de contouring vienen en varias tonalidades para conseguir el maquillaje perfecto , yo tengo que practicar porque no sé me da muy bien esta técnica!! hehehe
Regarding eyelashes´care , my favorite product is the M2 BEAUTÉ serum. The results are amazing, it´s amazing how my lashes can grow using this product every night. I had my eyelashes very delicate and I needed a product to strengthen them! 
En cuanto al cuidado de las pestañas mi producto favorito es el sérum M2 BEAUTÉ . Los resultados son una pasada , es increíble lo que pueden llegar a crecer las pestañas utilizando este producto todas las noches. Yo llevaba tiempo que tenía las pestañas muy delicadas y me hacía falta un producto para fortalecerlas y lucir unas pestañas increíbles!! Los resultados se comienzan a notar al mes aproximadamente y os aseguro que son increíbles!!
I like to have different foundations , depending on the type of makeup I want . When I look for a foundation with a lot of light I love YSL Touché Éclat  because my skin looks with a lot of light !! 
En cuanto a bases de maquillaje me gusta tener varias , dependiendo del tipo de maquillaje que quiera las voy alternando y por eso me gusta tener varias opciones. Cuando busco tener una base con mucha luminosidad me encanta utilizar Touché Éclat de YSL porque deja la piel con mucha luz !! (Podéis ver un vídeo de cómo me maquillo AQUÍ)
Regarding hair care GHD stylers are a must-have . I love my hairstyle with waves (don´t miss my tutorial about how to get this hairstyle)  but for the days that I want other hairstyle  I use this GHD platinum styler to get it. 
En cuanto a cuidado de pelo las planchas de GHD son un imprescindible. Normalmente llevo el pelo con ondas imperfectas , no os perdáis AQUÍ un video con un tutorial contando cómo me hago las ondas imperfectas. Y , para los días que lo quiero llevar más liso , utilizo esta styler GHD pink blush platinum de edición limitad en apoyo a la Fundación FERO para la investigación del cáncer de mama